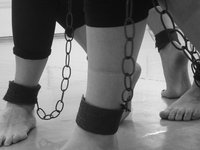 Combining modern ballet and hip hop including a unique piece with the dancers wearing chains, A Cry for Freedom artfully and tastefully depicts one teen's journey through the awful captivity of modern day slavery and eventual freedom. The ballet ends with a contemporary worship song by Jesus Culture. Project Hope's premiere performance is choreographed by Victoria Smith, Laura Segre-Lewis, and Rod Durall.
Performances
Memorial Hall on University of KY campus
610 South Limestone Street
Friday, June 10 at 7:00
Saturday, June 11 at 7:00
Sunday, June 26 at 4:00 see poster
Cost
$12 each
$10 each for 3 or more tickets
available at the door or contact ky n dance @ yahoo.com (remove spaces)
Although all are welcome to attend, parents are cautioned that the storyline might not be appropriate for everyone.
The brainchild of homeschool graduate Victoria Smith, Project HOPE gets its name from the thousands held in captivity who hope and long for the day that they might be rescued.
Speak up for those who cannot speak for themselves; for the rights of all who are destitute. Speak up and judge fairly; defend the rights of the poor and needy. ~Proverbs 31: 8-9
Victoria's vision for Project Hope is threefold: to raise awareness of modern day slavery, to raise funds to financially support organizations that are working hard to end it, and to inspire others to get involved as well.  A love offering will be received for LightForce International. You can find Project Hope on Facebook.
Anna Caroll, director of LightForce International Ministries, will be speaking at the June 10 and 11 performances. Based in Lexington, KY, LightForce exists to fight against the enslavement of women and children. The exploitation of young girls and children is one of the darkest corruptions today, and it's largely hidden from the American eye even though it is depicted on TV series like Law and Order.
You may recognize the names Elizabeth Smart and Jaycee Dugard: girls who were kidnapped. After being held captive for many years, they were rescued and reunited with their families.
Where evil occurs, God's grace abounds all the more! As shown in A Cry for Freedom, the only hope of freedom and restoration is in the center of the Father Heart of God.
Project HOPE Dancers
Victoria Smith, KRDT instructor and Laus Deo! dancer
Rod Durall, KRDT director
Nancy Durall, KRDT artistic director
Laura Segre-Lewis, artistic director
Melanie McEwan, Laus Deo! dancer
Sarah Williams, director of Gloria Deo School of the Arts in Wilmore, KY
Seth Carter, friend of KRDT
Meredith King, friend of KRDT
Marian Slay, friend of KRDT
Alyssa Fugette, KRDT student
Phoebe Glaser, KRDT student