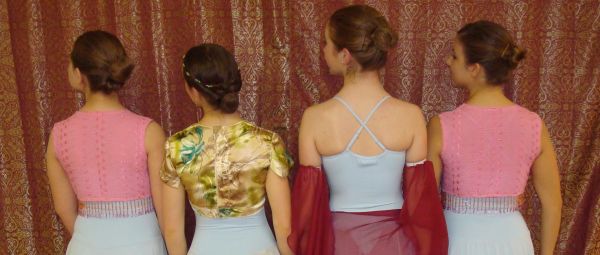 Please read schedule below and discuss placement in these multi-level classes with Nancy Durall. Level IV takes 3.5 hours to 6 hours per week.
schedule
Mondays 4:00-5:30 PM
Level III-IV with  Miss Laura
Tuesdays 6:45-8:15 PM
Level IV-VI with Miss Nancy
Thursdays 5:00-6:15 PM
Level III-IV
ballet and conditioning with Miss Laura and Miss Nancy
Fridays 5:45-6:30
modern with Miss Laurie
Saturdays 11:00 AM-12:30 PM
11:45-12:30 pre-pointe and pointe with Miss Nancy
12:30-2:00 rehearsal
dress code for females
black leotard
pink tights (worn under leotard)
pink ballet shoes, leather or canvas
hair neatly off face, ballet bun
no jewelry except wedding set
visible piercings only in ears, no long or heavy earrings
in cold weather, pink leg warmers, black ballet skirt and dark ballet sweater or shrug may be worn during barre warm up exercises
tattoos must be covered by clothing or concealer. If visible under tights, use concealer.
dress code for males
clean and intact black shorts or pants
ballet belt undergarment
white shirt
black socks
ballet technique slippers
hair neat, clean and off face
visible piercings only in ears
tattoos must be covered by clothing or concealer
contact
Nancy Durall
dancerskrdt@aol.com
859 277-6466
I look forward to hearing from you.